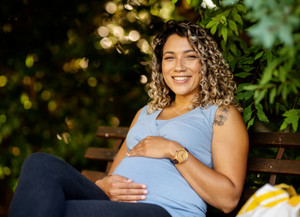 ​Dental Health During Pregnancy
Proper prenatal care helps ensure a healthy pregnancy, but dental care can often get overlooked in this regard. It is vital to maintain good oral hygiene while pregnant, since a woman's dental health can directly affect the health of her unborn child. Additionally, things like hormone fluctuations, diet, and morning sickness can make women more prone to cavities and gum disease.
According to the CDC (Centers for Disease Control and Prevention), about 60%-75% of pregnant women have gingivitis. Gingivitis can lead to periodontitis if left untreated, which severely impacts your oral health and can cause tooth loss, infection, and other dental issues.
Periodontitis has also been linked to premature birth and low birth weight. Additionally, bacteria that causes cavities can be transmitted to newborns by the mother after birth. This increases the child's risk of developing cavities at a young age.
​Family Dental Care in Cary, IL
It is important that pregnant women visit their dentist regularly. Any dental concerns they have should be addressed as soon as possible, such as tooth sensitivity, swollen gums, tooth pain, bleeding gums, or any other issues. Sometimes, dental problems arise or simply become more apparent during pregnancy.
Although your teeth may not be something you associate with reproductive health, it is actually extremely important to take care of your teeth and gums during pregnancy.
​Cary Dental Associates
If you have been searching for "A family dentist around me in Cary, IL" contact Cary Dental Associates today. We will help you achieve and maintain optimal dental health. We will also help make sure you are practicing proper oral care at home before, during, and after your pregnancy. Reach out today to schedule your next appointment with Cary Dental Associates.