The word "periodontal" means "around the tooth." Periodontal disease (also known as periodontitis or gum disease) is a common condition that causes inflammation that affects the supporting and surrounding soft tissues of the tooth and, in its most advanced stages, the jawbone itself. Because it is usually painless in the early stages, most people are not aware they are living with the disease. In fact, four out of five people have periodontal disease and don't know it! If left untreated, it can lead to shifting teeth, loose teeth and eventually tooth loss.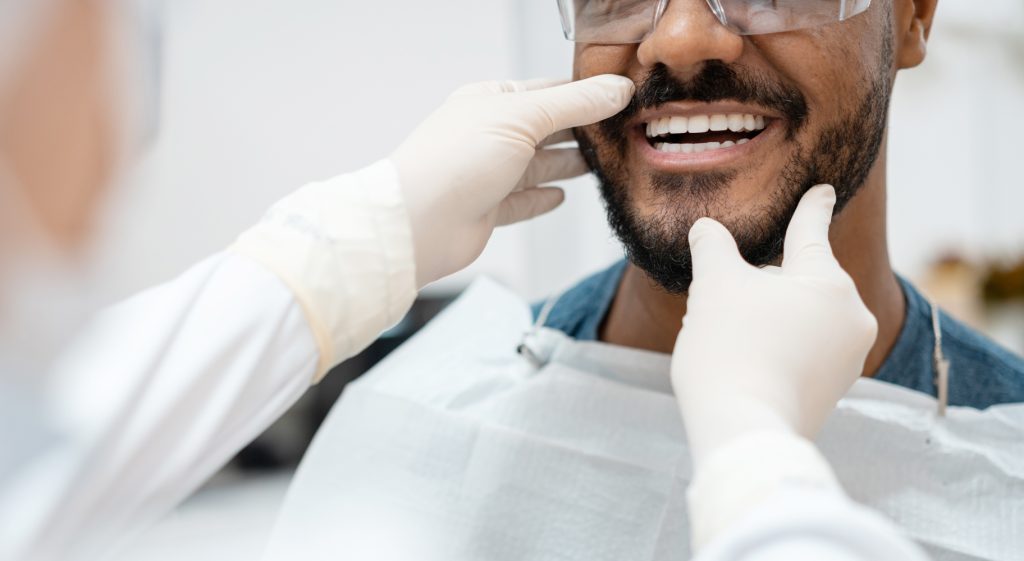 Periodontal disease starts showing signs after gingivitis, which is a bacterial infection of the gum tissue. Once this bacterial infection gets into the gum pockets between the teeth, it becomes much more difficult to remove and treat, and it can eventually destroy the connective tissue and jawbone. 
Periodontal disease is not only the number one reason for tooth loss—research also suggests there may be a link between periodontal disease and other diseases such as stroke, bacterial pneumonia, diabetes, cardiovascular disease and increased risk during pregnancy. Smoking also increases the risk of periodontal disease. Good oral hygiene, a balanced diet and regular dental visits can help reduce your risk of developing periodontal disease.
Signs and Symptoms of Periodontal Disease
Bleeding gums – Gums should never bleed, even when you brush vigorously or use dental floss
Loose teeth – Also caused by bone loss or weakened periodontal fibers (fibers that support the tooth's connection to the bone)
New spacing between teeth – Caused by bone loss
Persistent bad breath – Caused by bacteria in the mouth
Pus around the teeth and gums – Sign that there is an infection present
Receding gums – Loss of gum around a tooth
Red and puffy gums – Gums should never be red or swollen
Tenderness or discomfort – Plaque, calculus and bacteria irritate the gums and teeth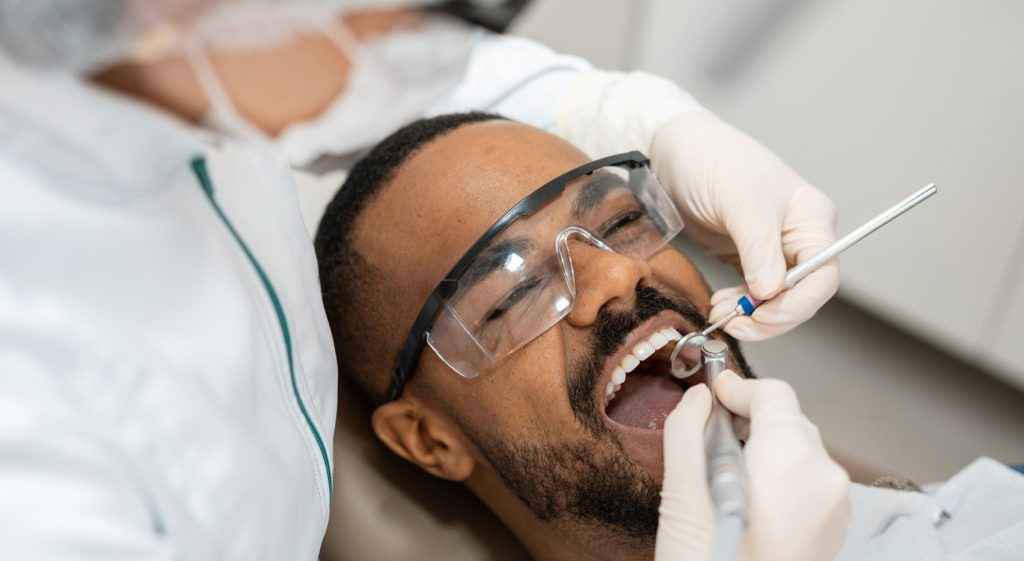 Types of Periodontal Disease
Diagnosis of Periodontal Disease
Periodontal disease is diagnosed by your dentist or dental hygienist during a periodontal examination. This type of exam should always be part of your regular dental check-up. You may be screened for periodontal disease by our team during your check-up.
A periodontal probe (small dental instrument) is gently used to measure the sulcus (pocket or space) between the tooth and the gums. The depth of a healthy sulcus measures three millimeters or less and does not bleed. The periodontal probe helps indicate if pockets are deeper than three millimeters. As periodontal disease progresses, the pockets usually get deeper.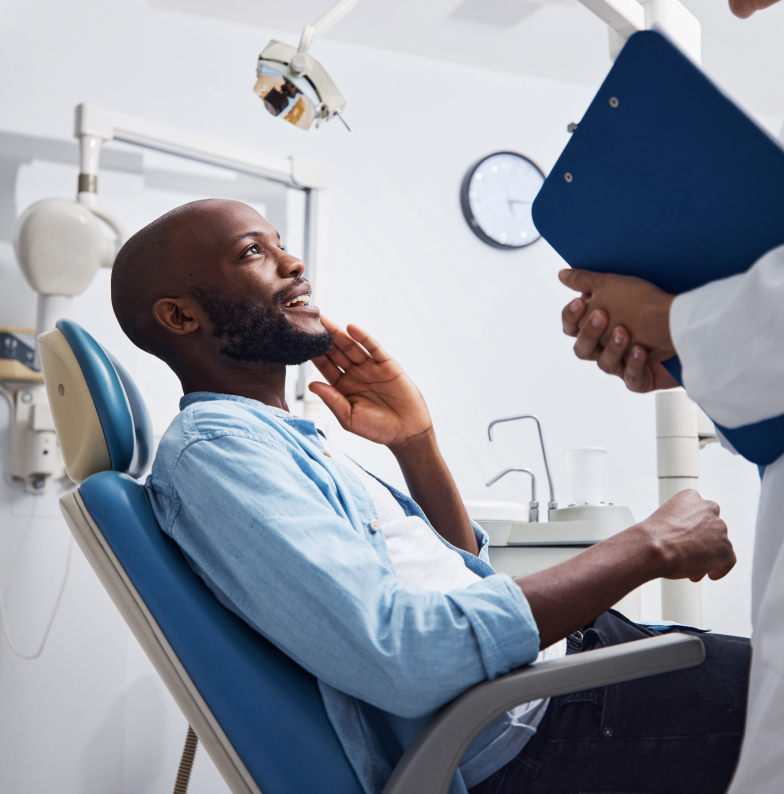 Treatment for Gum Disease
Our dental staff is trained and experienced in evaluating the health of your gums and determining which treatment option will provide the best results. Taking care of gum problems early is your best chance at a successful outcome, so we encourage you to call us as quickly as possible so you can enjoy a beautiful, healthy smile.
There are many surgical and nonsurgical treatments we may recommend depending on the exact condition of your teeth, gums and jawbone. We will do a complete periodontal exam of your mouth before any treatment is performed or recommended.
Here are some of the more common treatments for periodontal disease:
Scaling and root planing
In order to preserve the health of gum tissue, the bacteria and calculus (tartar) which initially caused the infection must be removed. The gum pockets will be cleaned and treated with antibiotics as needed to help alleviate the infection. A prescription mouthwash may be added into daily cleaning routines.
Tissue regeneration
When the bone and gum tissues have been destroyed, regrowth can be actively encouraged using grafting procedures. A membrane may be inserted into the affected areas to help the regeneration process.
Pocket elimination surgery
Pocket elimination surgery (also known as flap surgery) is a surgical treatment which can be performed to reduce the pocket size between the teeth and gums. Surgery on the jawbone is another option to get rid of indentations in the bone that can cause bacteria growth.
Dental implants
When teeth have been lost due to periodontal disease, the aesthetics and functionality of the mouth can be restored by implanting prosthetic teeth into the jawbone. Tissue regeneration procedures may be required prior to the placement of a dental implant in order to strengthen the bone.
Ask your dentist if you have questions or concerns about periodontal disease, periodontal treatment or dental implants.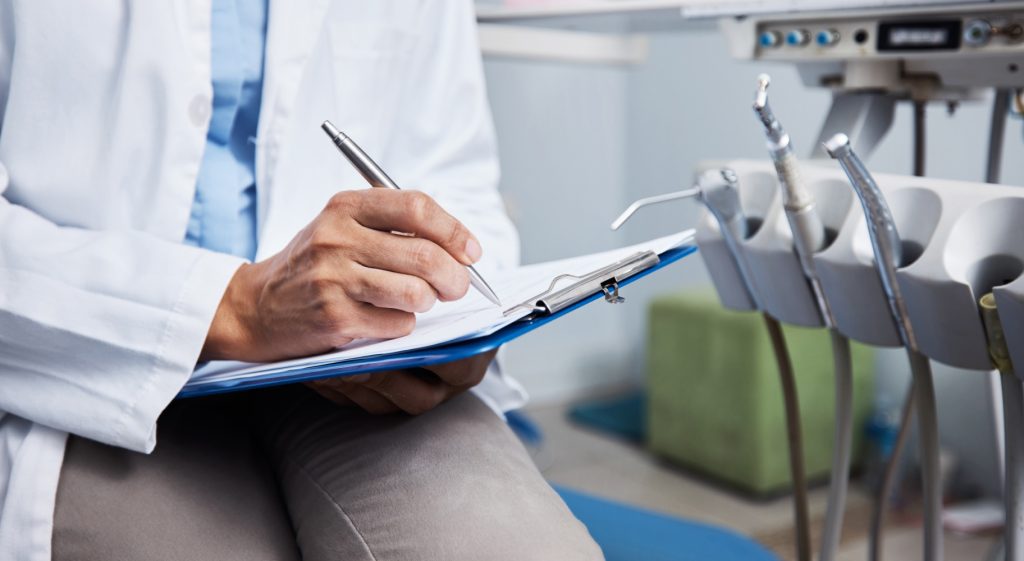 It only takes 24 hours for plaque that is not removed from your teeth to turn into calculus! Daily home cleaning helps control plaque and tartar formation, but those hard-to-reach areas will always need special attention.
Once your periodontal treatment has been completed, your dentist and dental hygienist will recommend that you have regular maintenance cleanings (periodontal cleanings), usually four times a year. At these cleaning appointments, pocket depths will be carefully checked to ensure that they are healthy. Plaque and calculus that is difficult for you to remove on a daily basis will be removed from above and below the gumline.
In addition to your periodontal cleaning and evaluation, your appointment will usually include:
Examination of diagnostic X-rays (radiographs) – Essential for detection of decay, tumors, cysts and bone loss (X-rays also help determine tooth and root positions)
Examination of existing restorations – Check current fillings, crowns, etc
Examination of tooth decay – Check all tooth surfaces for decay
Oral cancer screening – Check the face, neck, lips, tongue, throat, cheek tissues and gums for any signs of oral cancer
Oral hygiene recommendations – Review and recommend oral hygiene aids as needed (electric toothbrushes, special periodontal brushes, fluorides, rinses, etc.)
Teeth polishing – Remove stains and plaque that is not otherwise removed during tooth brushing and scaling
Good oral hygiene practices and periodontal cleanings are essential in maintaining dental health and keeping periodontal disease under control!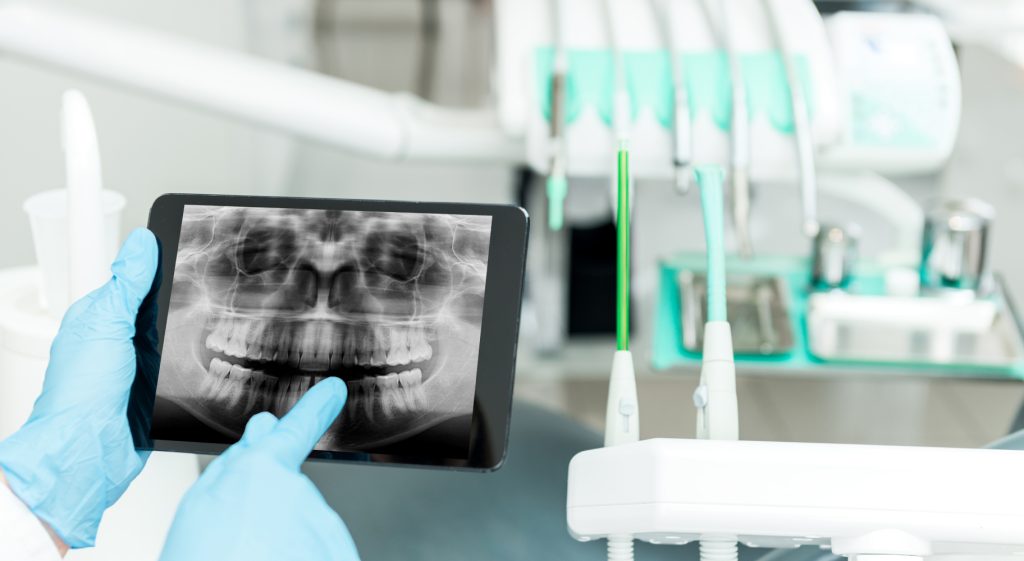 Periodontal Scaling and Root Planing
When patients suffer from gingivitis and other gum problems, root planing is often the best solution. The process removes disease-causing substances from the teeth, such as plaque and tartar. Although the procedure cleans the roots of the teeth, it is a non-surgical procedure with no downtime to effectively treat gingivitis and periodontal disease.
Why is root planing necessary?
Root planing can be used as a preventive or a standalone treatment. Some of the reasons you may need this treatment include:
Disease prevention – Those who are more likely to develop periodontal disease or gingivitis may benefit from root planing to help slow down or even stop the development of the disease.
Tooth protection – Pockets can develop that separate the gums from the teeth. When this happens, cavities and other problems below the surface are more likely to occur. Root planing can resolve this issue.
Aesthetics – In addition to removing plaque and tartar, this procedure can also remove some staining from the teeth, leaving you with a brighter smile.
Better breath – Bad breath can sometimes be caused by bacteria and food particles that may be trapped below the gumline. Root planing can remove this debris and give you better breath.
What does periodontal scaling and root planing involve?
First, the dentist will take X-rays and complete a thorough examination. Depending on the amount of cleaning required, a local anesthetic may be used during the procedure.
Scaling – Scaling uses special dental tools and even an ultrasonic scaling tool to remove plaque and debris from the crown and root of the tooth. A water-flushing process may also be used to apply antibiotics below the gumline.
Planing – Root planing goes a bit deeper, removing the surface dentin and cementum (hard tissues found in your teeth) that contain toxins, tartar and microorganisms. The surface is then smoothed to prevent the growth of more bacteria.
After treatment, gum pockets may be treated with antibiotics, and a follow-up will ensure the pockets are healing properly.
"This was my first visit, and everyone at the office was so nice and friendly. They were understanding about underlying issues and helpful, and not at all judgmental. I really feel like I'm at the best possible dentist and they provide the best care. Even my daughter, who hates going to the dentist, couldn't stop talking about how great her experience was."